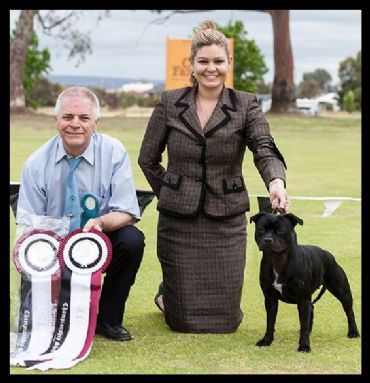 CONGRATULATIONS TO MELISSA JONES - ONAHI STAFFORDS
RUNNER UP BEST IS SPECIALTY SHOW!!!
DEKADANCE SHEZ THE BOMB!!!!
*********
"Involvement in the Dog World since 1995 - DEDICATED to the promotion of the Staffordshire Bull Terrier since 2003"

T/A A LITTLE BIT OF DEKADANCE - PROUD SUPPLIERS OF BLACKHAWK PREMIUM PET FOOD, CHA', YU AND PROFESSIONAL DOG GROOMING PRODUCTS

BRINGING QUALITY PRODUCTS AT PRICES YOU CAN AFFORD
"WELCOME TO THE FUTURE OF DEKADANCE STAFFORDS and
A LITTLE BIT OF DEKADANCE QUALTIY PET PRODUCTS"
2012 see's our 9th year involvment with Staffordshire Bull Terriers - although only new to the breed compared to others, we feel we can now begin to say we have a clear definition on what "our" ideal Stafford is. This has been through endless research; research into the standard, into lines, into parentage, genetics and endless hours off questions and advise from honest trusted long term breeders (in Australia and Overseas). We can honesty say we feel we are now ready to embark on seeing if we can produce our ideal Stafford for ourselves.
We have spent the last 9 years focussing on the promotion of the breed itself, and the assurance of HEALTHY (tested) animals, and really trying to understand what makes this breed so great .
Our 3rd litter between Ch Toplace Nomads Ooh Lah Lah and Multi BISS winner Brohez Archibald Da Rogue, was what we have considered as the start of our foundation - it was not only an eye opener to us, but its was a very wonderful gift from some very special friends. The lines we were been privilaged to combine. Our 4th Litter is only new on the ground, however proving to us that research and not substituting quality and standard pays off - both of our 2011 litter have been made possible by the hard work and dedication from the breeders before us, and we are honoured to call these lovely lines part of our "now" own.

Our statement has ALWAYS been "Quality over Quantity" and we will continue to stand by that in the years to come.
We dont settle for less than best in anything we do - which led to our discovery of BlackHawk Premium Pet food. We are now proud stockists and look forward to being able to enrich your pets life ! View our page for information.
We thank you for taking the time to visit our website, and hope you enjoy it.
Please check back regularily for updates and dont hesitate to contact us, we are more than happy to offer support and advise.
Dekadance Staffords combining International Lines to produce PROUDLY AUSTRALIAN CHAMPIONS!
Updated 31/12/2012

Dekadance is registered with DNA Technologies as a certified Collector
55688 Visitors