~ Established 1995~
Dedicated to responcible pet ownership and to the betterment of the breed
Staffordshire Bull Terriers and French Bulldogs
2018 is my 16th year of involvment with Staffordshire Bull Terriers - although this is still only considered new to the breed compared to others, I now feel I can now begin to say I have a clear definition on what "my" ideal Stafford is. This has been through endless research; research into the standard, into lines, into parentage, genetics and endless hours off questions and advise from honest trusted long term breeders (in Australia and Overseas).
I have spent years focussing on the promotion of the breed itself, and the assurance of HEALTHY (tested) animals, and really trying to understand what makes this breed so great .
My statement has ALWAYS been "Quality over Quantity" and I will continue to stand by that in the years to come.
***
Thank you for taking the time to visit my website, and hope you enjoy it.
Please check back regularily for updates and dont hesitate to contact me, as I am more than happy to offer support and advise.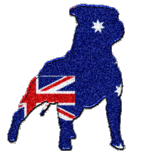 Dekadance Staffords combining International Lines to produce PROUDLY AUSTRALIAN CHAMPIONS!
Updated 20/03/2018
Dekadance is registered with DNA Technologies as a certified Collector
178252 Visitors