~ Established 1995~
Dedicated to responcible pet ownership and to the betterment of the breed
Staffordshire Bull Terriers, Belgian Shepherds and French Bulldogs
2017 see's our 14th year of involvment with Staffordshire Bull Terriers - although this is still only considered new to the breed compared to others, we feel we can now begin to say we have a clear definition on what "our" ideal Stafford is. This has been through endless research; research into the standard, into lines, into parentage, genetics and endless hours off questions and advise from honest trusted long term breeders (in Australia and Overseas).
We have spent years focussing on the promotion of the breed itself, and the assurance of HEALTHY (tested) animals, and really trying to understand what makes this breed so great .
Our statement has ALWAYS been "Quality over Quantity" and we will continue to stand by that in the years to come.
***
2015 sees us embark on a wonderful journey back with belgian shepherds. We are truly blessed to be trusted by Jenine and (late) Wayne Glenn with their legacy, and we look forward to exciting times!
Check out our "Belgian Connection" page for all their exciting wins so far!
***
We thank you for taking the time to visit our website, and hope you enjoy it.
Please check back regularily for updates and dont hesitate to contact us, we are more than happy to offer support and advise.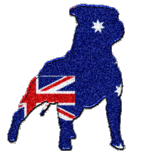 Dekadance Staffords combining International Lines to produce PROUDLY AUSTRALIAN CHAMPIONS!
Updated 20/06/2017
Dekadance is registered with DNA Technologies as a certified Collector
158069 Visitors